For a Multitude of Gardening Services, You Can Count on Our Gardening Professionals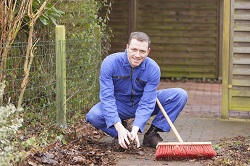 No matter how much work you've got to do in your garden, you can call London Gardeners to provide reliable gardening experts to come and clear up the mess. Our gardening professionals are proficient in all forms of gardening services from hedge trimming and pruning to garden tidy ups, planting and garden waste removal. To enjoy a cold drink on a sunny afternoon in your garden this summer you won't have to lift a finger- unless of course you count lifting a finger to pick up the phone and call 020 8434 7256 to obtain gardening professionals to make your garden look fantastic.
Our gardening experts will deliver all of your gardening work from start to finish and our gardeners are always on time with a positive attitude and excited to create an innovative space for you and your family. We also work for a number of large estates with huge grounds to cover and our great organisation means that we can deliver fantastic results each and every time. After years in the business our gardening services experts have acquired fantastic skills and the very best garden design abilities that you'll find anywhere in London. Even the smallest of gardens can be revolutionised with the creative eye of our gardening professionals so simply call 020 8434 7256 and our friendly staff will be delighted to hear from you. We can discuss your options and requirements and we can even offer you a free quotation for the work that you need. Due to our flexible pricing structure we can sort out an arrangement that works for everybody to provide you with fantastic garden maintenance services. Whether it is a weekly visit, daily work on the grounds or monthly maintenance work we will make sure that your garden is looking perfect all of the time at reasonable costs.
We always arrive with all of the tools needed for the job and we don't waste time. Once we've arrived we will get straight to work strimming and trimming, pruning and planting until your garden looks perfect. Then we will be on our way causing you minimal disturbance to your day. We pride ourselves on keeping great relationships with all of our customers and clients with a personalised service where our customers really matter. We know exactly what will need doing on each and every visit whether it is garden spraying or patio cleaning. You will be able to amend, cancel or change an arranged visit at any time with no extra cost, and you can also add or request extra jobs at any time.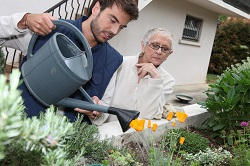 If you've got any sized lawns to look after you might be interested in our lawn restoration and repair service to provide some much needed tender love and care to your battered lawns. Our London lawn care team knows exactly what to do to look after your lawns and you will be amazed at the speed at which we can cover large areas with rapid lawn mowing that shows great attention to detail with the ability to produce attractive and neat patterns in the field. Simply get in touch with London Gardeners and our local team will be delighted to get started in your garden, with our ideas, hard work and great prices you won't be disappointed and you will love the look of your brand new garden. So kick back, relax and enjoy the summer in your attractive garden. If you need any work no matter how big or small call 020 8434 7256 today for a friendly and professional gardening service.


London Gardeners have the best prices. The gardeners were also very professional, and they worked really fast. Loved them!
I checked online for garden maintenance services, and I settled for London Gardeners. Best decision ever! I was impressed with the outcome. They took care of everything.
I contacted London Gardeners on short notice for gardening services. I thought they were going to charge an extra fee for that which they didn't! I love that you do not exploit people like most gardeners do. I will definitely hire their services again, am a big fan already.
I have always been in love with beautiful lawns and hedges, so after I moved, I couldn't wait to get started. London Gardeners have been with me from the very beginning and thanks to you I finally have my dream lawns. I highly recommended!
London Gardeners knowledge and skill is unbelievable. When I started, I had no idea what works and what doesn't. Today, my gardens have flourished, and it looks amazing. Thank you so much, guys!
A friend recommended London Gardeners after I saw her beautiful lawns when she invited me over for wine. They did an amazing job. My lawn looks beautiful than ever!
No other gardening company is as professional and dedicated as you. My backyard looks amazing! I love it. Thank you, London Gardeners definitely recommend your services!
The crew was very punctual and professional. I was impressed by how quickly they worked in my garden and made my dream garden. I didn't even cancel any of the plans I had for the weekend.
London Gardeners' gardeners are kind, dedicated and also come highly recommended by anyone that has hired your gardening services. They also have one of the best landscapers in the hood.
London Gardeners' gardeners transformed my backyard, lawn and hedges to the perfect shape. I will definitely recommend them to anyone.